Google Analytics Enhanced eCommerce tracking helps you get detailed insights into your customers' shopping behavior, optimize your store, and drive more revenue.
In this article, we'll show you how to enable WooCommerce Google Analytics Enhanced eCommerce and its exclusive benefits that will direct your eCommerce and highlight its importance for your online store.
Before venturing into the benefits of WooCommerce, let's understand why you should know the difference between traditional eCommerce and enhanced eCommerce tracking.
Traditional eCommerce vs. Enhanced eCommerce Tracking
Although, it's optional, eCommerce tracking helps you analyse the shopping behavior through Google Analytics much better than the traditional eCommerce tracking.
While a few powerful reports can be generated, enabling Enhanced eCommerce improves tracking on your online store:
 Shopping Behavior
 Checkout Behavior
 Product Lists Performance
 Sales Performance
Now let's quickly compare the benefits of Enhanced eCommerce tracking over traditional eCommerce tracking.
1. Over viewing Product Performance Reports:
Easy viability of sales and store information such as revenue, conversion rates, average order value, number of refunds, etc., can be tracked using traditional eCommerce.
Whereas Enhanced eCommerce allows you to track categories and brand taxonomies that are relevant to your business. In addition to that it also allows you to evaluate data on the basis of product categories and brand properties.
2. Shopping and Checkout Behavior Reports:
Enhanced eCommerce tracking gives insights into product page views, shopping cart initiations and abandonment, completed transactions and more.
3. Product List Performance Reports:
Product lists are a logical grouping of products on your site. This logical grouping helps you to categorize your products for upselling and cross-selling for maximizing revenue from your store. This report helps you track the product lists that are shown to your customers and analyze their performances.
4. More Useful Marketing Reports:
It also helps you track the performance of your own coupon codes and sales to see what works. This  also helps you determine who your top affiliates are and see their revenue, transactions, and average order amount.
Overall the Enhanced eCommerce tracking gives you all the essential data you need to optimize your store to boost your revenue.
Setting Up WooCommerce Google Analytics Using Enhanced eCommerce
Following these steps will get your WooCommerce Google Analytics fixed and running in no time.
Step 1: Install MonsterInsights and eCommerce Addon
To start with the reports on your dashboard, install MonsterInsights. It's the best you can get out of Google Analytics WordPress plugin for sufficient but important information on your dashboard.
Set up Google Analytics on your site without any third-party assistance, using the plugin to improve store's performance to configure Google Analytics eCommerce.
Using MonsterInsights eCommerce addon, you can set up Enhanced eCommerce for your WooCommerce Google Analytics tracking.
To activate the addon, click Insights » Addons and go to eCommerce.
Once the addon is activated, head over to your Google Analytics account.
Step 2: Enable Enhanced eCommerce Tracking in Google Analytics
Enable enhanced eCommerce tracking by logging into your Google Analytics, and select the website you'd like to track with Enhanced eCommerce. Follow these steps: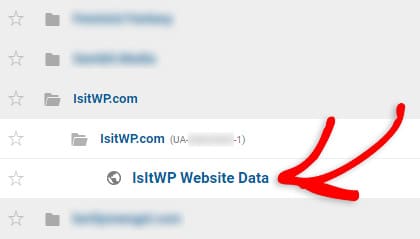  Click Admin in the left taskbar.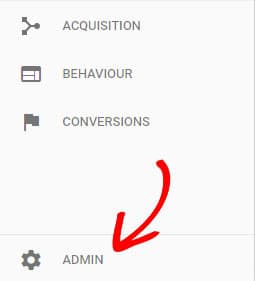  Click Ecommerce Settings under the column on the right.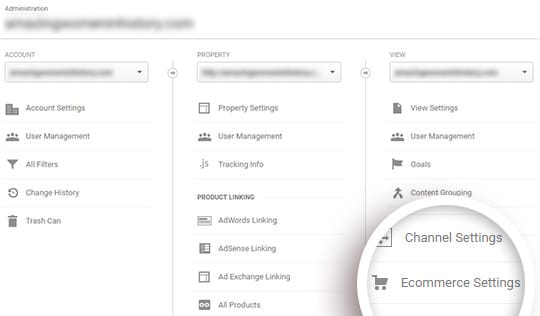  Click sliders under Status and Enable Related Products, to turn it from off to on.
 Click the Next Step button.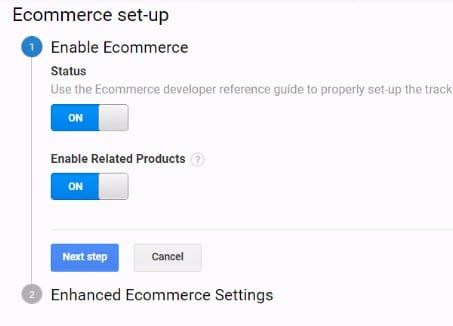  Click the slider under Enhanced Ecommerce Settings, to turn it on.
 Finally click the Submit button.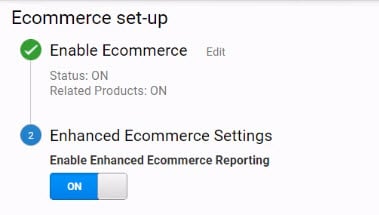 Step 3: Enable Enhanced eCommerce in MonsterInsights
Now  go to your WordPress dashboard and access MonsterInsights. And to find out how the addon begins to track your WooCommerce store. Simply follow these steps:
 Click Insights » Settings and then
 Select eCommerce from the top menu.
 Choose the option: Use Enhanced eCommerce.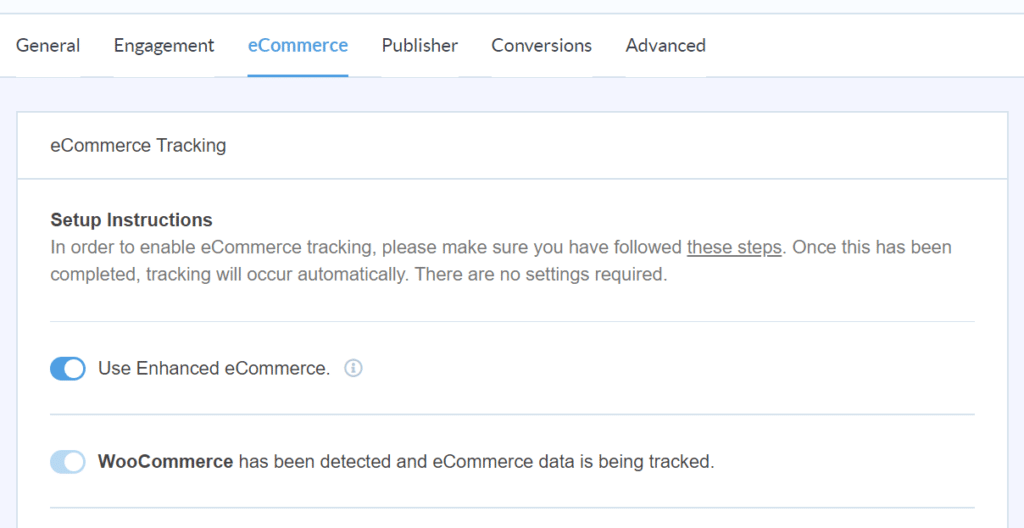 After that the addon will then automatically start tracking your WooCommerce store for you. Now you can grow your business with informed decisions. Beginning with…
Tracking Your WooCommerce Store's Performance
Boosting your online store performances with WooCommerce Google Analytics can help monitor progress by following these simple steps…
First, view the eCommerce report by going to Insights, then Reports, and select eCommerce from the menu.
Your overview of essential stats about conversion rate, transactions, revenue, and average order value is available now. As per your preference, you can make necessary changes in date range appropriately.
To help you find details on quantity ordered, percentage of sales, and total revenue generated, scroll down to see Top Products report.
The report helps you choose online products responsibly, and helps promote sales and shows conversion ratios to plan your work effectively. Data from this report helps you identify potential sources to advertise your products.

When it comes to WooCommerce Google Analytics, you can view the Top Conversion Sources for your store.
This report shows the list of all the websites that send in the most converting traffic to your store. It also shows the number of visits, their overall percentage, and the revenue they contribute.
The data from this report helps you identify sources you should focus on more for promotions of your products.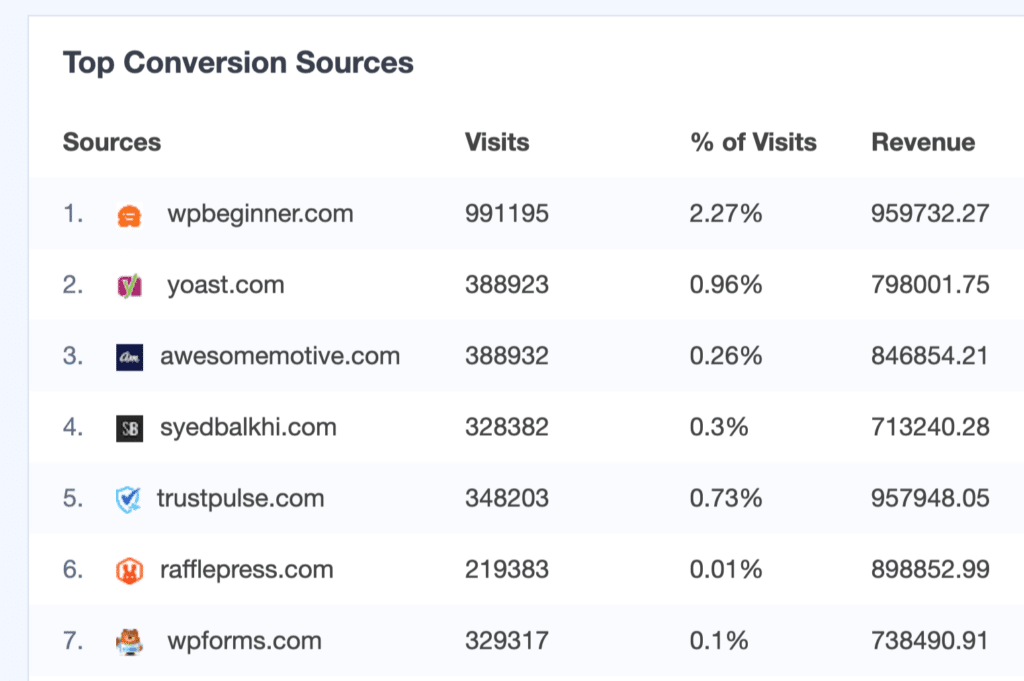 Some of the other reports offered by MonsterInsights eCommerce addon include Total Add to Carts and Total Removed from Cart. It also shows the number of products your customers added and those that they removed at checkout.
This also helps you view the Time to Purchase and Sessions to Purchase reports to see the time duration it takes for a customer to convert on your WooCommerce store.

We hope you've got a clear understanding of how to set up Enhanced eCommerce tracking to your WooCommerce store.